LV – Aural Winter Blanket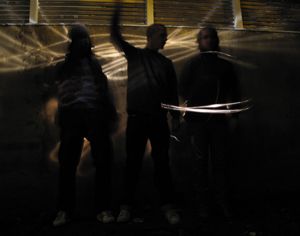 Our second guest mix of the year comes courtesy of a London-based trio little of which is known apart from the most important thing – their music is good. LV is the name, and I first heard of them a few years back when Steve Goodman aka Kode 9 released a track of theirs (afaik their first release) on his Hyperdub label. A sweet, dub-tinged ballad called 'Globetrotting' it was love at first hearing you could say.
Since then I've kept an ear out for them, notably coming across their remix of Willie Isz earlier last year (which we featured on the November 09 show). They've released on a variety of other labels, including Ramp, primarily remixes. After all that I bumped into one of the trio, Simon, at the Hyperdub 5 party in November, and the following week once more at the Ramp party. We got chatting, exchanged emails and I mentioned a guest mix would be a welcome addition to the Rhythm Inc catalogue not least because I was a fan and because following our chats I could tell they would fit right at home with our ethos and listeners.
As I returned to the world of the internet this week I thought of hitting Simon back up for the guest mix when, great minds thinking alike, an email popped in with a link and tracklist. I instantly downloaded it, fired it up and as we chatted by email it occurred to me that this was a truly great guest mix and perfect addition to our series – it goes deep, treading territories we don't often explore with a dubby vibe we absolutely love.
Think back to the beginnings of the show (some 5+ years ago) when Trick and Waxfactor put forward their love of people like Wordsound and the Agriculture as the basis for Rhythm Inc's birth and you might start to be close to what the guys have delivered. I am well and truly stoked and cannot thank them enough.
Featuring primarily music from other people, including favourites of ours such as Untold and Pole, they've also put in an unofficial (but approved) remix they did for Klaus Roeder, and it's an absolute corker.
The name of the mix comes from Simon, as I asked him for some words for the post he didn't give me anything but mentioned that the mix was the 'aural equivalent of a blanket, useful for the winter days' – and well that's the perfect description.
For more on LV be sure to check their myspace where you can purchase all previous releases, all of which we heartily recommend especially their Hyperdub plates. Look out for more from them in 2010 on Hyperdub as well as Soul Jazz and Keysound recordings among others. We'll be sure to let you know and air the new music as it comes. They were also talking about a session they did with Tokyo's Quarta330 when he was town last November, and I really hope something comes of that as it would be a thoroughly entertaining combo.
So without further ado, grab the mix, sit back, wrap up and prepare to go in deep – this one is a trip.
Download 'LV – Aural Winter Blanket' (right click and save as)
Tracklist:
Biosphere – From a solid to a liquid
Pole – Taxi
Hieronymus – Honeydrops
Conjoint – Earprints
Oskar Sala – Klangfarben Caprice [V]
Burnt Friedman and the New Dub Players – Cassock Attack
Klaus Roeder (LV mix) – Kristalisation 9
Sigha – Prayer
Asusu – Taurean
Untold – Yukon (FMF remix)
Flying Lotus – Auntie's Lock/Infinitum
Zomby – Digital Flora
FaltyDL – To London
Never miss a show
Subscribe via our iTunes channel, RSS feed or newsletter and never miss a show. Simply click below:
This entry was posted on Saturday, January 9th, 2010 at 9:00 am. It is filed under Podcasts, Guest Mixes and tagged with Flying Lotus, Hyperdub, Zomby, Untold, LV, Klaus Roeder, Pole. You can follow any responses to this entry through the RSS 2.0 feed.
blog comments powered by