Fulgeance – Donky Pitch 1st Birthday mix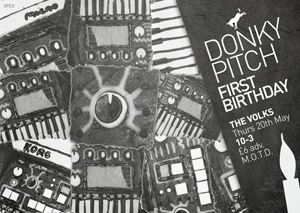 Regular listeners will know that we've been big fans of French MPC maestro Fulgeance for a while now. Actually pretty much ever since I first heard him back in late 07 and even more after he dropped the classic 'Revenge of the Nerds' on All City Records 7×7 Beatstrumental series in 08. Since then the Frenchman has continued to conquer dancefloors the world over with his own brand of Low Club music – an infectious mix of instrumental hip hop, French electro, slowed down house and other club friendly music – and releases on his own Musique Large label as well as the mighty One Handed Music. And while his music bangs hard on record, he really needs to be seen live for the full effect, as he brings the roof down using 2 MPCs and making people move in ways you never thought possible using that trusty, old hip hop workhorse. He really is a showman in every sense of the word, and I don't say that lightly.
So when the lovely people at Donky Pitch hit us up about airing a mix from the man in celebration of their forthcoming 1st birthday party, it was pretty much a no-brainer. Based in Brighton, Donky Pitch have been putting parties on over the last year with the kind of line up and open musical ethos that is very much in line with us here at Rhythm Inc, I particularly like their tagline of "Whatever you wanna call it… Glitch, Wonk, Laser Bass, Crunk, Wonky, Glitch-Hop, Skweee, Purple Funk, Wonk-Hop, Experimental and or Instrumental Hip Hop, Dubstep, Electronica… it's got us by the balls and we like it." They've hosted people who've regularly featured on the show and they've also been big supporters of the Skweee sound, even hosting the UK screening of the 'We Call It Skweee' documentary.
So to celebrate their first candle we bring you 45 minutes of Fulgeance action especially mixed for the occasion. Scroll down for full details of the party itself, which is taking place on May 20th in Brighton, as well as all the linkage you need and amazing pictures of a very special cake made for the occasion. And a little further below for the usual direct download links, stream and tracklist for the mix.
Funny side story, I played a gig with Fulgeance a few weeks back in Italy and over dinner told him how Mr Trick had described his music to me as 'chopped and screwed house' the first time he heard it. Fulgeance liked the description so much he went and named a track on his forthcoming new EP after that! (you can view a live version of said track here) So this is definitely a family affair of sorts and a huge pleasure to hosts these guys on the show.
Donky Pitch's first birthday will be going down at The Volks in Brighton on Thursday May 20th, from 10 till 3. Tickets are available online here. As for the line up, it features the talents of:
Fulgeance – Live
Randy Barracuda – Live
Slugabed
Rekordah
Ghost Mutt
Boss Kyte – Live
Expect plenty of beats, bass, skweee and live madness. And if you're lucky maybe even a slice of this cake…

Photo by Red Fash Photography
For more on Donky Pitch check their Facebook Fan page and for Fulgeance the myspace. The man has a new EP dropping on Musique Large shortly I believe.
For now though sit back and get large in the headphones or on the stereo and I really can't recommend enough you get down to Brighton for the party on the 20th as it'll be one to remember for sure. And we can all do with a party by the seaside every once in a while. Oh and many thanks to David at Donky Pitch for the hook up.
Download Fulgeance – Donky Pitch 1st Birthday mix (right click and save as)
Tracklist:
01. CHARLES TREES – MAHJONGG (Musique Large)
02. FULGEANCE – GLAMOURE (Musique Large)
03. FULGEANCE – GREY BLUE (Musique Large)
04. MUX MOOL – WOLF TONE SYMPHONY (Paul White Remix) (Ghostly Recordings)
05. AD BOURKE – FLIGHT DECK (Treble O)
06. JAY DILLA – HOT SHIT (I'M BACK) – The Roots Version (Okay Player)
07. DZA – SHIFTY (JustLikeMusic & Apple Juice Break)
08. SHLOHMO – ANTIGRAVITY (Fulgeance Remix) (Friends Of Friends Music)
09. EVERYDAYZ – DYSTOPIE 1.4 (cdr)
10. LANDO KAL – FUZZY ANKLES (Numbers)
11. MISEL QUITNO – PULL IT OUT SOMEWHERE (Dimlite Remix) (Eastroke)
12. CHRIS LATUL – NEW MORNING (Eye Records)
Never miss a show
Subscribe via our iTunes channel, RSS feed or newsletter and never miss a show. Simply click below:
blog comments powered by