Friends of Friends mix series: Asura – I Am The Homonculus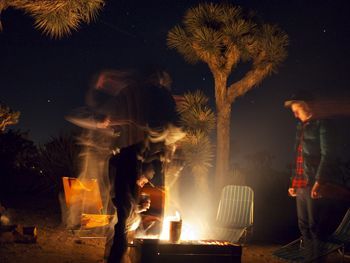 Following from the inaugural mix of our Friends of Friends series last month (here if you missed it) we swiftly follow it up with an exclusive mix from L.A's Asura, a producer who's slowly but surely making a name for himself as part of the city's ever growing, open-minded music scene that encompasses beats, electronic, hip hop, atmospheric and more. Entitled 'I Am The Homonculus' it's a lovely ride through the man's musical tree as he calls it.
For those new to this series, the FoF mix series features an exclusive mix every month from a close friend of the label complete with an exclusive picture from another close friend of the label. The mixes go out exclusively on Rhythm Incursions and also via FoF's Soundcloud page (embed below). The picture this month comes from Shaun 'Sodapop' Koplow, and has the following story attached to it:
This photo was the result of luck while messing around with my new Panasonic Lumix – GF1. While setting up camp in Joshua Tree for Lazy Brow's bachelor party, I figured I'd attempt to document things with a few long exposures. I came up with a few shots that seemed exemplary of that night's bro-motions just fine… this being one of them.
As for the mix, Asura had the following to say about it:
My musical tree spanning the past five years, full of old ones, friends' ones, and my ones. Los Angeles is represented deep while paying special attention to certain very very important tracks in my development (especially pay attention to "The Big Ship", "Outdoor Miner", "I Am A Scientist", and "Tommib"). Searching for the oppositions of melody/noise, order/chaos, pop/non-pop, and all that good bullshit. Mostly just enjoy, I know I did.
For more on Asura you can check Nonprojects.net and his myspace. Look out for a new split release between the man and Non Project's Anenon, which should be out later this month via the label and Alpha Pup distribution.
For now though sit back and enjoy this lush musical ride into the influences of one of L.A's best kept secrets!
Download Asura – I Am The Homonculus (right click and save as)
Asura – I Am The Homonculus – Friends of Friends Mix by FoFMusic
Tracklist:
Asura – All Our Favorite Colors
Gyorgy Ligeti – Concerto for Violin and Orchestra-1. Praeludium Vivacissimo Luminoso
Masanka Sankayi – Le Laboureur
Dimlite – On The Same Picture (feat. Elan Tamara)
Joji Hirota – Fire Dragon
Arthur Russell – Answers Me
Aco – Machi
Supersilent – 6.4
Fennesz – Glide
Brian Eno – The Big Ship
Dak – Rolling Hills
Baths – Hall (Asura Remix)
Kate Bush – Suspended In Gaffa
Matthewdavid – Know You're Not Alone
Can – Vitamin C
Anenon – Damiel
Grouper – Heavy Water/I'd Rather Be Sleeping
Four tet/Burial – Moth (feat. Ana Caravelle and Bjork)
Wire – Outdoor Miner
Guided By Voices – I Am Scientist
Squarepusher – Tommib
Ana Caravelle – Blackberries (Asura Source)
Asura – Silver Trees
Arthur Russell – A Sudden Chill
Never miss a show
Subscribe via our iTunes channel, RSS feed or newsletter and never miss a show. Simply click below:
blog comments powered by